UNCORK YOUR INNER ARTIST
FIND THE ARTISTIC EXPERIENCE THAT WORKS BEST FOR YOU OR CONTACT US TO CREATE YOUR OWN
Join like minded souls in enjoying a fun boutique art experience at one of our Oregon locations.
From fun and family friendly to wacky and wild. We have an option for every taste.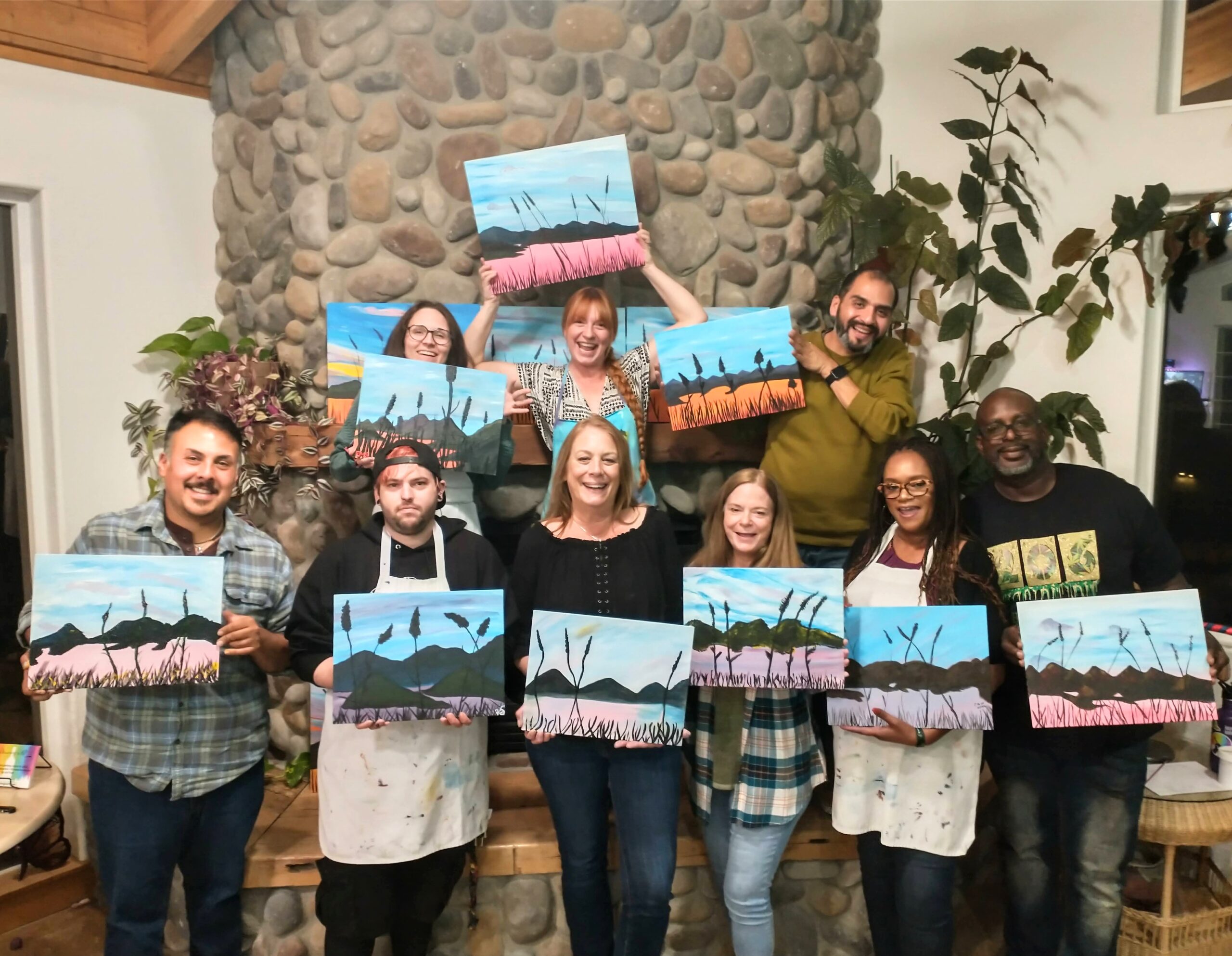 Bring your own bud and puff while you paint! Classes are held at our Gearhart Studio location.
Gather friends and family together at a fun artistic event. Perfect for birthdays!
kim ramirez
November 20, 2022.
I had a wonderful experience with Dawning. She is energetic, positive, and a great teacher! She made painting fun and easy. Highly recommend to newbies!!!
Barbara Hanks
October 23, 2022.
I've painted 3 times with Dawning. She makes it so much fun and easy. No experience required.
Suzie Locke
October 15, 2022.
Dawning was the best. The studio is great and she made us all feel like Artists. Loved it
Ashley Albertson
October 14, 2022.
We had an excellent time with Dawning today for our group painting class! Dawning was a fantastic teacher and made us feel very welcome and safe to explore our artistic abilities. Would highly recommend this class to any person or group looking for a fun and relaxing way to spend a couple hours!
Michelle M
August 7, 2022.
Enjoyed a weekend sip n paint with a friend and what a blast! A must do for sure she's incredibly talented thanks again.
Demi Stratman
June 13, 2022.
Dawning is amazing! We had a great time painting with her. She made everything fun and positive and easy to learn which was good for those of us not spectacular at painting things. The whole set up and take down process was smooth and efficient and not a drop of paint was anywhere it shouldn't have been! We will definitely be doing this again!
Brittany Hillman
June 6, 2022.
Great communication and the best energy! We had a great time with Dawning!
I Recommend this. We had such a Awesome time ! Thank you Dawning !!
Jeanne Wildman
April 27, 2022.
We really enjoyed the evening with Dawning and guests. Many were returning "painters" as I'm sure we will be! The instruction was clear, casual and fun! Thank you Dawning and Rich!